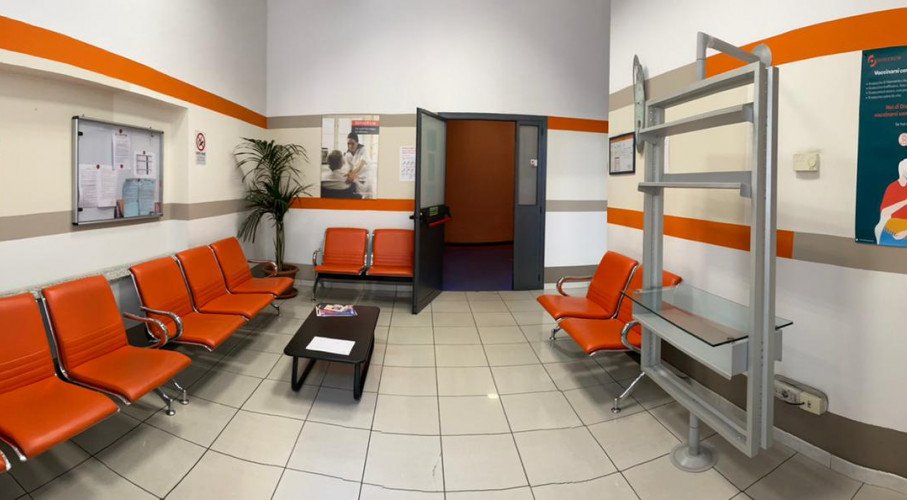 About the Clinic
Accepting
HIV Patients
HBV Patients
HCV Patients
Our experienced clinic team welcomes you to DIAVERUM ADRANO. In our clinic we offer excellent medical service as well as a warm and friendly atmosphere t o revitalise our patients both physically and emotionally.
DIAVERUM ADRANO was inaugurated in 1979 and features 13 dialysis reclining chairs. All stations are equipped with TV screens and free Wi-Fi.
We offer our patients additional clinical assistance services such as cardiological, nutritional, oncological consulting, etc.. and we take care of our patients supporting administrative activities with ASP of Catania.
As an integral part of our service we offer free meals, coffee, and tea for our patients.
Free public parking is available adjacent to the clinic.
Patient Transport Service: for all patients outside the Region, whose transport is not managed by the Region of Sicily, it is possible to organize, subject to acceptance of the estimate paid by the patients, transfers with an affiliated transport association.
And God created Sicily…Visit a unique place of art, archaeology, folklore. And breath and feel the heritage of Archimedes and Saint Paul. Of course, the excellent and healthy Mediterranean food is also a remarkable pro to take a refreshing vacation in this part of Italy. This fantastic island will create moments to remember!
The Carnival of Acireale (Catania) is one of the most ancient of Sicily. The first Grotesque floats were built in 1880, and this old tradition has been kept alive, thanks to the expert and willing local artisans that convey all of their imagination and know-how in the creation of their artistic floats. The most characteristic mask was very likely the abbatazzu (the abbot) or poet minutizzu (a poet) that mimed the nobles and the clergy bringing around a lousy book, pretending to pronounce satirical and mocking sentences
Mount Etna – Europe´s greatest natural wonder
Mount Etna is a living, sacred mountain of legend and myth. Sicily´s highest mountain has a height of approximately 3.300 meters. When considering an excursion, you should – even in warm summer days – be prepared to discover snow on its top.
Catania is the region where the mountains meet the sea. Experience golden coasts with orange and lemon orchards. Learn about different cultures and how they influence past and presence of Sicily, by i.e. taking an excursion to the historic Greek amphitheatre in Taormina.
"Bedda" is the Sicilian word for "beautiful" – and this is exactly how this fantastic region should be described.
In the 1800s, after the Goethe praised its beauty throughout Europe, mentioning it in his book Italian Journey, Taormina became a mandatory stop on the Grand Tour – the long journey made in continental Europe – by the young European aristocracy of the time to enrich their own culture.
Today, it is a tourist capital of Sicily and many travelers enliven its streets throughout the year.
The ancient Greeks loved to construct their buildings in beautiful scenic locations and here they found the pairing of Etna and the Naxos bay, with a wonderful view, when sky is clear, to can admire Calabria coasts.
It is, surely, the main monument of the city, not only for its intrinsic artistic value, but also for the scenic location in which it is placed. The view enjoyed from up there is even defined as the view par excellence. The one that is not to be missed when in Sicily.
For more touristic information please visit https://www.visitsicily.info/
Facilities
Refreshments
Free WiFi
TV Screens
Free Transfer
Free Parking
Opening Hours
| | |
| --- | --- |
| Monday | 06:30 - 18:30 |
| Tuesday | 06:30 - 18:30 |
| Wednesday | 06:30 - 18:30 |
| Thursday | 06:30 - 18:30 |
| Friday | 06:30 - 18:30 |
| Saturday | 06:30 - 18:30 |
| Sunday | Closed |
Staff
Medical director
Schillaci, Roberto
Payment Options
Credit Cards
Wire Transfer
Cash
Getting to the Clinic
Viale della Regione, 129, 95031 Adrano, Italy