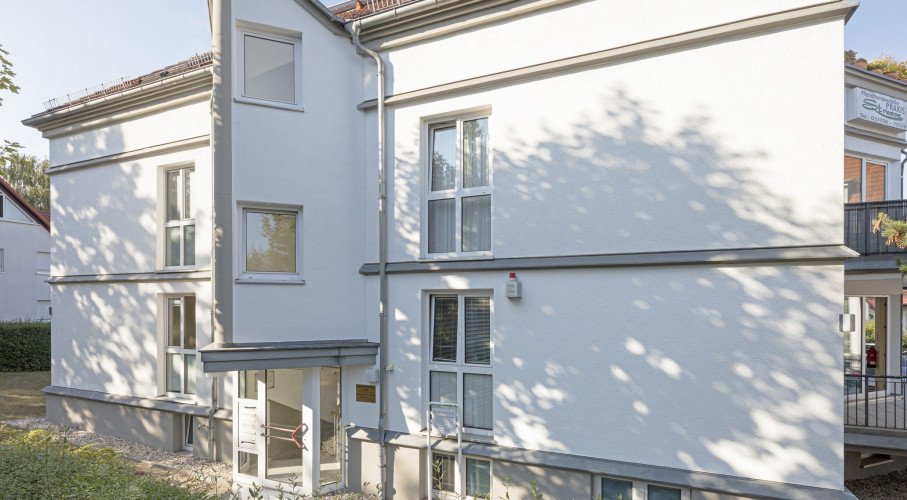 About the Clinic
Accepting
HIV Patients
HBV Patients
HCV Patients
Our experienced team welcomes you to MVZ Diaverum Am Neuen Garten - Rangsdorf Clinic.
At Diaverum, we offer our patients consistently high standards of care in every one of our clinics worldwide. While our care excellence, based on a highly standardised approach, drives superior medical outcomes, we also know the importance of truly empowering patients, their friends and family. Our empathetic culture delivers a holistic renal care experience, as well as a warm and friendly atmosphere to ensure our patients can regain their strength both physically and emotionally.
The clinic has been part of Diaverum since 2009 and offers 9 dialysis stations. The clinic is a satellite clinic of the MVZ Diaverum Am Neuen Garten – Potsdam
As well as renal care services, we also offer nutritional advice and diabetic consultations at our clinic.
We look forward to welcoming you personally to MVZ Diaverum Am Neuen Garten - Rangsdorf Clinic.
As part of the d.HOLIDAY programme, our clinic offers holiday dialysis to patients from all over the world.
Facilities
Refreshments
Free WiFi
TV Screens
Opening Hours
| | |
| --- | --- |
| Monday | 07:00 - 13:00 |
| Tuesday | Closed |
| Wednesday | 07:00 - 13:00 |
| Thursday | Closed |
| Friday | 07:00 - 13:00 |
| Saturday | Closed |
| Sunday | Closed |
Staff
Medical Director
PD Dr. med. Thiemo Pfab & Dr. med. Barbara Zander
Nephrologist & Hypertensiologist
Prof. Dr. med. Michael Haase
Nephrologist & Hypertensiologist
Diana Bischoff
Nephrologist & Hypertensiologist
Jens Bischoff
Nephrologist
PD Dr. med. Philipp Kalk
Nephrologist
PD Dr. med. Christian Albert
Specialist Internal Medicine & Diabetologist
Dr. med. Heike Spielhagen
Certified Nutritionist
Dipl. oec. troph. Daniela Paust
Clinic Manager
Jennifer Dahlmann
Getting to the Clinic
Großmachnower Allee 14, 15834 Rangsdorf, Germany